10.10.2018
Welcome back to another #WaryahWednesday—a weekly blog series where I break down my theories on the philosophy of WWE Hall of Famer, The Ultimate Warrior. I consider Warrior to be one of the most misunderstood pro-wrestlers in the history of the sport/business. A lot of wrestling fans know Jim Helwig as the guy who Vince McMahon saw to be the next big thing, but the plan failed as Helwig's personal beliefs and demons prevented his character from having long-term career in pro-wrestling. Despite Warrior's personal issues, I have always thought there was something more. What was he trying to tell us in his promo work? Was it all just madness off-the-cuff, or maybe his rants masked a cry for help?
Again, if any of you want to jump ahead and watch more Warrior wildness, a lot of the material I use in this series comes from Rocket Fuel's YouTube channel. There are a ton of Warrior interviews and promos uploaded for your viewing pleasure.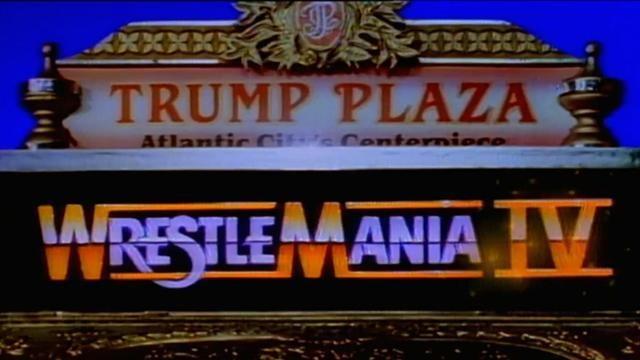 The focus today is all about the build to Wrestlemania IV—the first of two back-to-back Wrestlemania's held in Atlantic City. Ultimate Warrior and Hercules signed to square off. To this point in 1988, Warrior and Hercules worked matches "around the loop" to double count-outs and even a 20-minute draw! I'm not exclaiming out of excitement. I exclaim out of sympathy for the fans in attendance. It's well-known that the Ultimate Warrior vs. Hercules matches that led up to Mania IV weren't the best. (I'll explain the DVD where I learned that fact later on.) Outside of the following clip and their match at Mania, I can only imagine how brutal it must have been to watch the air taken out of an arena when Warrior and Herc test of strength'd each other to death for 20 minutes. On paper though—holy crap. The matchup looked great in lights. 
"Come on in where nightmares are the best part of my day!" – February 27, 1988 – Wrestlemania IV Report
Craig DeGeorge served as an interim WWF commentator/reporter/interviewer from 1987-1988. He was a meat and potatoes kind of broadcaster. We never really got any hint of his personality. I know he wasn't a robot (I think). He was there to deliver us exactly what it read on the cue cards/notes. I don't know this for a fact, but I assume he came along to take some of the work off Gene Okerlund's hands. As I mentioned before, 1988 would soon see the end of the interviewer/interviewee promos shot to promote upcoming live events.
In the following Warrior promo, DeGeorge broadcasts the Wrestlemania IV Report. The Special Report, WWF Magazine Update, Event Center, and the big four pay per view reports were probably my favorite part of WWF television during this era. These segments caught viewers up on storylines and cards to upcoming live events. Superstars of Wrestling, Wrestling Challenge, Wrestling Spotlight, All-American Wrestling and Prime Time Wrestling each featured one or two a week.
We jump right in the middle of DeGeorge announcing that the match between Ultimate Warrior and Hercules is officially signed to be a part of the Wrestlemania IV event. What follows is one of the more famous promos from Warrior's early days in the WWF featuring a memorable line featured in The Self-Destruction of The Ultimate Warrior DVD. For those who've never seen this DVD, it's fairly easy to find a used copy for around $10. The DVD is long out of print and had a fairly limited release. Why? As the title indicates, this was the first and only DVD I can remember WWE producing that's dedicated to burying a wrestler's legacy. Helwig would eventually sue the WWE over the DVD's defaming content, but we all know that the issues were eventually worked out between parties. I highly suggest picking up The Self Destruction if you've yet to experience it.
Here's what Warrior has to say to YOU, Hercules: 
"AAAAHHH! Hercules! You stepped halfway through the door! COME ON IN WHERE NIGHTMARES ARE THE BEST PART OF MY DAY! And Wrestlemania's happening in the squared circle, but it has nothing to do with professional wrestling! It has to do with who's the baddest! Who's the meanest! Who deserves to stand on that mountain! Hercule-AAAAAAH!!!"
Nothing to it. Well, except for maybe a bit of a contradiction. Yes, Wrestlemania took place in a ring. The only thing is that the event totally had to do with pro-wrestling. What I think Warrior meant to say was that not only does the event feature pro-wrestling, but there's so much more to it. Wrestlemania is where you get to see the "baddest" and the "meanest" wrestlers in the world. It's also a place where we as fans decide on who is to "stand [atop] that mountain" that is the WWF. Nothing's changed except the fact that in Warrior's case, the fans were all about him. So, Vince decided to give him a ball in the months to come. Nowadays, Vince could give a shit about what we fans think—or, at times, that what it seems. This is why I consider 1988-90 to be the last of the WWF's glory years.
I'm sorry, but, as a kid, if I heard a wrestler say something to the extent of, "Come on in where nightmares are the best part of my day," then I would believe every bit of it just by looking at the guy. It sounds like a line from an issue of early 90's Punisher comics. Warrior had a "take no prisoners" mentality but he actually took prisoners for goodness' sake. He rode the edge of insanity and I loved every bit of it.
Now we knew that the match was set. What we then needed was a little—pardon the term—juice to build up this epic confrontation. One week later, we got it. Off the top of my head, I'm not sure on which Superstars of Wrestling this specific "test of strength" took place, but we're about to see the results of Warrior and Herc's "tug of war" which led to the signing of their match at Mania IV. 
"You're the next link that's gonna be broken!" – March 5, 1988 – WWF Superstars of Wrestling 
Craig DeGeorge spoke in fragments, where Gene Okerlund spoke eloquently. Here, DeGeorge mentions a few of the featured matches at Wrestlemania IV.
"Big news today. Wrestlemania IV: the big 20-man, invitational battle royal. Other celebrities: the Guest Timekeeper, "Wheel of Fortune's" Vanna White, "Mr. Baseball" Bob Uecker: the Guest Ring Announcer. A couple of other championships on the line. Tag Team Championships: Strikeforce defends against Demolition and the Intercontinental Champ, The Honky Tonk Man, will defend against "The Barber" Brutus Beefcake—part of the action, Wrestlemania IV, several other matches as well…including one I wanna talk about right now: The Ultimate Warrior against Hercules. Now, before we get to that, let's take a look at this. THIS, a really big part of this match-up." 
Part of Hercules' gimmick was wearing a 20-30 foot chain around his neck. Why? I don't know. I guess it was because Hercules was strong enough to lug that chain around with him (or had creative mixed up Hercules with Prometheus?). This match was supposed to be a Chain Match like a Russian Chain Match made famous in the NWA. However, the WWF set this up to start out as a test of strength which inevitably led to Warrior breaking the chain. Now we the fans—and Herc—knew the strength of the Warrior. This was impressive stuff for the kids to see. WWF made Herc out to appear as one of the strongest forces in wrestling. At this moment, there was definitely a new kid on the block in the form of a mad, hulking Native American.
DeGoerge continues. "Alright, you talk about a test of strength. We got a good look at it right there." 
"We're talking about ultimate power, Hercules," Warrior says. "To get to where I wanna go you gotta walk across a lot of bridges and you gotta guac [walk] across a lot of people and you gotta break a few links in the chain! I broke the link in the chain! The only thing standing between me and you, Hercules, YOU'RE THE NEXT LINK THAT'S GONNA BE BROKAAAN! AAAAHHH!"
Now that the chain was broken, there's nothing to stop Ultimate Warrior from breaking Hercules, right? I love Warrior's eyes in this promo. He's intent on beating the ever living shit out of Herc at Wrestlemania. I believed this in 1988. Who wouldn't 
DeGeorge attempts to press on, not worried about stepping on Warrior toes. "Alright, well, there's another issue here. Let's look at that." 
Of course, Herc—who at the time was managed by Bobby Heenan—wasn't going to stand for the embarrassment. He tries to choke out Warrior with the remains of the chain. This is the first time viewers witnessed someone getting the best of Warrior albeit with help from a foreign object.
"What about that, Ultimate Warrior?" asks DeGeorge.
Ultimate Warrior lets us know: "It's gonna take a lot more than that to put The Ultimate Warrior down…"
And that's that. It was rare that the WWF cut a wrestler's promo short back then. I really wish they hadn't in this case. Who knows the madness that spewed out following the edit? Warrior clearly said something else but time is money, right? We got what we needed from that interview—Warrior was strong enough to break Herc's chain. Can he now break Hercules?
There's no mystery to these promos. Warrior lets the audience know what he thinks about his match with Hercules at Wrestlemania IV. For the sake of this blog's function, I'm using the chronological history of interviews such as these to better support my theory on Warrior's philosophies and origins moving forward. It all started somewhere.
Next week, the build to Wrestlemania IV and beyond continues. We'll take a look at a few more promos where Warrior explains what makes the skies rumble and the Earth shake, as well as frustrations, normal people, and post-Mania fallout. For next week, "Waryahs," the origins and philosophies begin to take shape.
Until then, "Normals."
Matt de Simone is a writer, podcast host, and procurer of pop culture. Follow him on Twitter, Instagram, and check out a few "back issues" of his soon-to-be-returning podcast! Have any questions about the Warrior? Hit him up.