I was just thinking the other day how it's been a couple years since I've had an extensive look back on my year of reading comic books. Last year was a transition from school to full-time "adulting." I got way behind and didn't feel like I had enough knowledge to confidently review the highlights of 2017. I also found myself burned out in 2016 and 2017. During my time in Florida, I read and wrote about comics a lot. There was also the problem of reading way too many monthly titles and having to backtrack once new books arrived.
This year I returned to the place I first started reading comics, Roanoke, VA. While I'm 500+ miles away from the state which still has a piece of my heart and soul, the good fellows at A Comic Shop in Winter Park, FL still file and send me my monthly titles. I haven't read the books as they come out every month. At first, I found it weird, but then I remembered I hadn't read on-time in months anyway. My pull list was initially chopped in half right before I moved. Somehow, someway, it's ridiculous again.
This past year was pivotal in terms of the stories produced in popular titles. I've complained in the past how comic books are now too influenced on the movies and television shows. The mainstream storytelling in 2018—that I read—is quite the pleasant surprise. Well, that, and I've pretty much gotten over Hollywood's influence. It is what it is.
Before I can explain my must-read comic books, there are a few titles I have to mention before I continue.
HONORABLE MENTIONS
Doomsday Clock – All I really have to say is that I still don't know what Geoff Johns is planning, but the shit reads great. Should there be a sequel or prequel to Watchmen? No, but, again, the shit reads great.
Bendis' Superman comics – There hasn't been enough material to really give you a confident explanation as to why you should be reading Action Comics and Superman. I can tell you that, in just 10 or 12 issues total, Brian Michael Bendis has an Avengers-like grip from the jump. I'm stoked because these should be the best comic books going today.
Dan Slott's Fantastic Four – Like Bendis' Superman stuff, I don't have a lot of the new FF stuff to go by. I need to go back and read Chip Zdarsky's Marvel Two-in-One run following Johnny Storm and Ben Grimm's (and Sue's) adventures. Even without that knowledge the start of this new FF series is, well, fantastic.
Super Sons Vol. 1 – If DC Entertainment has a lick of sense, they see the potential of Spider-Man: Into the Spider-Verse's style of animation and want their own too. Super Sons is more or less a Saturday morning cartoon and it's tremendous. Plus, these books are going to be eBay gold once its eventually announced that Damien and Jon-Jon are getting their own cartoon/film. The kids are gonna love it.
Dan Slott's Tony Stark: Iron Man – I am a "Slott-man." He's a smart, patient scribe. I'm six issues in and hope this book turns into a 30-40 issue monster (at least). Iron Man is now a character who always needs to carry a strong solo series. Slott knows the formula and it's solid.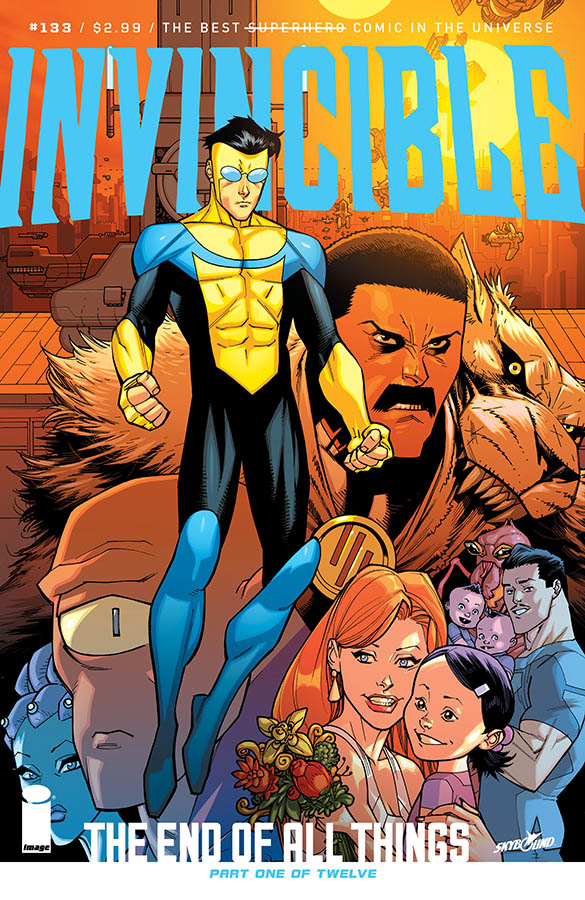 The Immortal Hulk – Horror movie Hulk. Monster movie Hulk. I don't feel like I need to explain that. If you were once into the old television series starring Bill Bixby and read any "Grey" Incredible Hulk from the late 80's, you need to check this out. Al Ewing has constructed a freak show starring "Devil Hulk." Joe Bennett's art is very Gibbons-like. Plus, if Alex Ross is the cover artist of a mainstream comic, it's usually readable/excellent.
The end of Invincible – I still stand by my opinion that Invincible is/was the greatest super hero comic book ever written. Unfortunately, there was a period when the book's creator, Robert Kirkman, had a lot on his plate once The Walking Dead premiered. Invincible suffered from a poor story rehashing the past to long delays between issues around 110-125 that briefly soured the series for me. And then Kirkman hit us all over the head with "The End of All Things." This final 12-issue story wrapped the series up in a wonderful package that can easily be unwrapped, rebuilt, and packed away again. I'll miss the book in its heyday, there is nothing better, in my opinion. It's the only self-contained solo series I've read front to back that exceeds 100 issues. If you still haven't read the first volume, you're a tool.
So, there's that. (This turned into opinions on twelve comic books quickly.) Now, on to my five must-reads. Based on these popular titles, realize that if you're wanting to get into comics, all of following books are exceptional intros. All the hits. Let's go.
Mister Miracle – Hands down the best mini/maxi-series I read in 2018. Honestly, it's twelve of the best comics printed in the past ten years. I knew where this story was going from the jump and I was fine with it. Everything. The book is an escape—an escape from the norm of super hero books, an escape from our hero's reality, and it's an escape from the most feared creature in the DC Universe. Ironically and fortunately enough, Mister Miracle can escape anything. It's his thing.
Scott Free is a New God. He and his wife, Big Barda, grew up together on Apokolips under the tutelage of Granny Goodness. They fell in love and became one of DC Comics more famous and likable couples. So, what if they had a kid? Free, the biological son of Highfather, was born on New Genesis but was exchanged at birth with Orion, the biological son of Darkseid—remember that "most-feared creature" I mentioned? Yeah, that guy. For some period of time, Scott Free didn't know his true origin. Until he did. Despite all that, Darkseid is who Scott still considers to be his father. It's totally messed up.
Sorry for the digression. So, if Scott and Barda have a child, and Scott Free is now "Highfather" because Scott's real dad is dead, that would make Darkseid the only "Grandpa," right? The shit that happens in this series…
At the story's conclusion, it completely makes sense what happens in the end. Or is it the end? Or what did we really see? I have to give Tom King credit. I don't read a lot of his stuff but this book is brilliant. Mitch Gerads should draw everything. All the awards and adoration are well-deserved.
Justice League – Scott Snyder's epic run on the New 52 Batman is renowned. Most of it was excellent. Some of it was "meh." Once DC announced Snyder was getting Justice League, I had high hopes. This series, thus far, delivers. Snyder's on his game and artists the likes of Jorge Jimenez and Jim Cheung are churning out beautiful visuals.
I grew up watching every iteration of the Super Friends cartoon series. If I could best describe this new JL series, I would say it's the G.I. Joe Resolute of the old Super Friends stuff. Resolute was a brief cartoon series from 2009 written by Warren Ellis that overhauled the original cartoon and made it into a more modern (and brutal) reality.
Snyder's Justice League is doing the same thing in a way. The Legion of Doom is back. Lex Luther isn't Superman anymore and this series really gets inside Lex's head to better explain why he stopped being a "good guy." He's obsessed with "The Totality"—an artifact that looks like a doorknob (because it initially was). This doorknob has not only broken the Source Wall, but it's now pulling things out into reality once again. Not only that, but there's now an Ultraviolet Lantern Corps. Oh yeah, Martian Manhunter is the League "Chairman." That's not going to get weird.
The possibilities are endless for this title's potential. The Hall of Justice exists. There are just as many Leaguers as there are Avengers. (Very Justice League Unlimited,) If you think characters like Nekron or Superboy Prime are still dead, don't. I'm just waiting to see the bigger fish because it's not the Legion of Doom. It never is.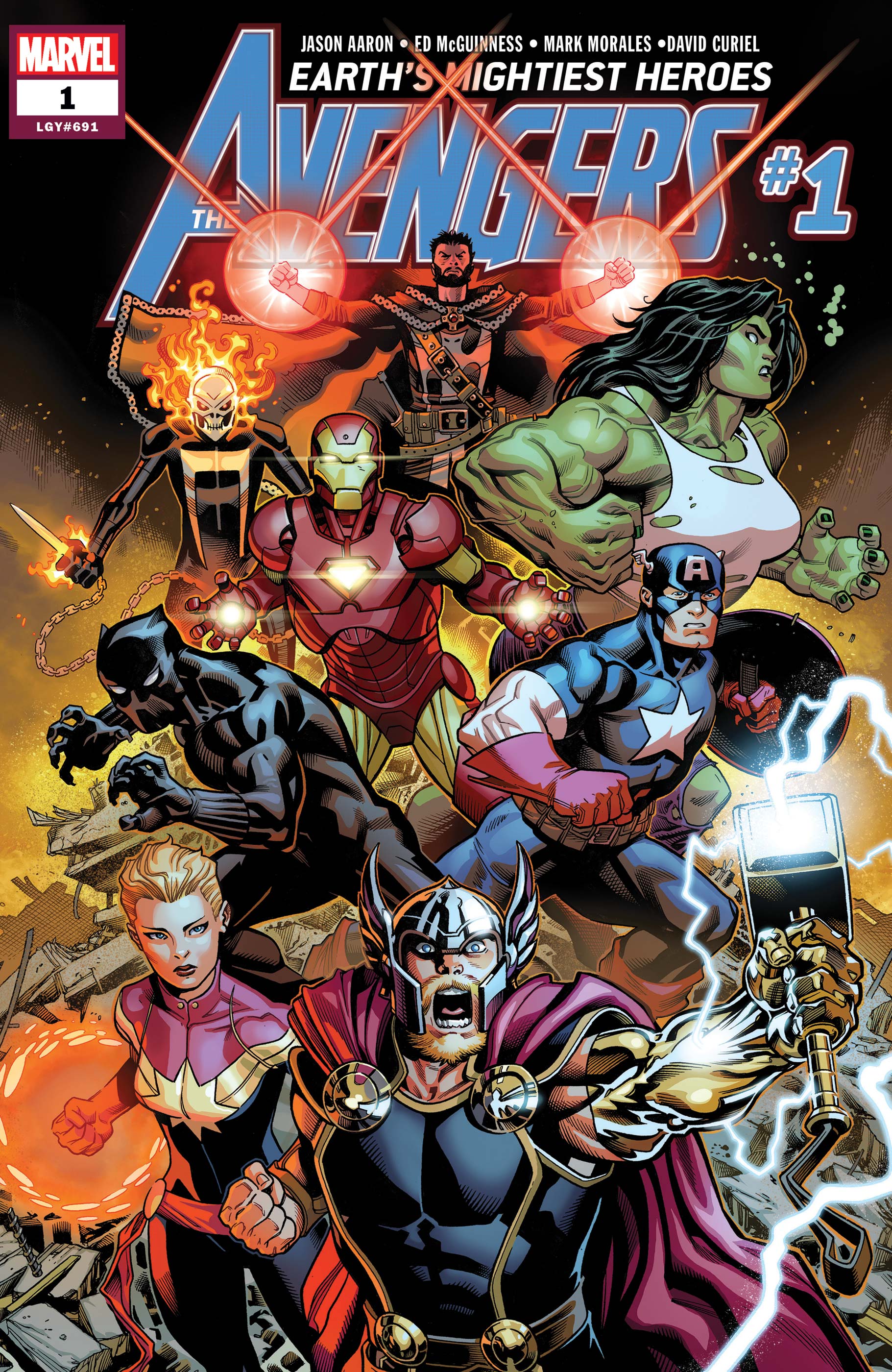 Avengers – Here's a thread: the major teams books from DC and Marvel are top-notch. Much like Snyder's JL, Jason Aaron's Avengers are a fantastic mix of new and old characters. Just as J'onn is an excellent choice as leader of the Justice League, T'Challa is an awesome choice as Chairman of the Avengers. I've thought Black Panther should've led the squad since Jonathan Hickman's Avengers stuff. Obviously, based on the success of Black Panther in the box office, you have to step up his role in the comic books. I have zero problems with that choice. T'Challa is Marvel's James Bond.
Similarly to another book Jason Aaron has perfected (of which I'm getting to), this new volume of Avengers kind of jumps around in time. We see the very first "Avengers" early on while paralleling the perils these "new" Avengers must face. Celestials fall from the sky and kill everything. Black Panther relocates the team to the Artic and sets up shop inside of one of the fallen Celestials. It's like the Avengers' Fortress of Solitude in a way. I'm not complaining—although everything comes back to Superman being the best, but whatever.
I also dig the fact that "A-A-Ron" hasn't incorporated the typical villains involved in Avengers adventures… yet. I think this may be the first, new Avengers series that didn't kick off with Kang the Conqueror messing up space-time. Once I saw the Avengers of the past, I feared the worst. Thankfully, no Kang… yet.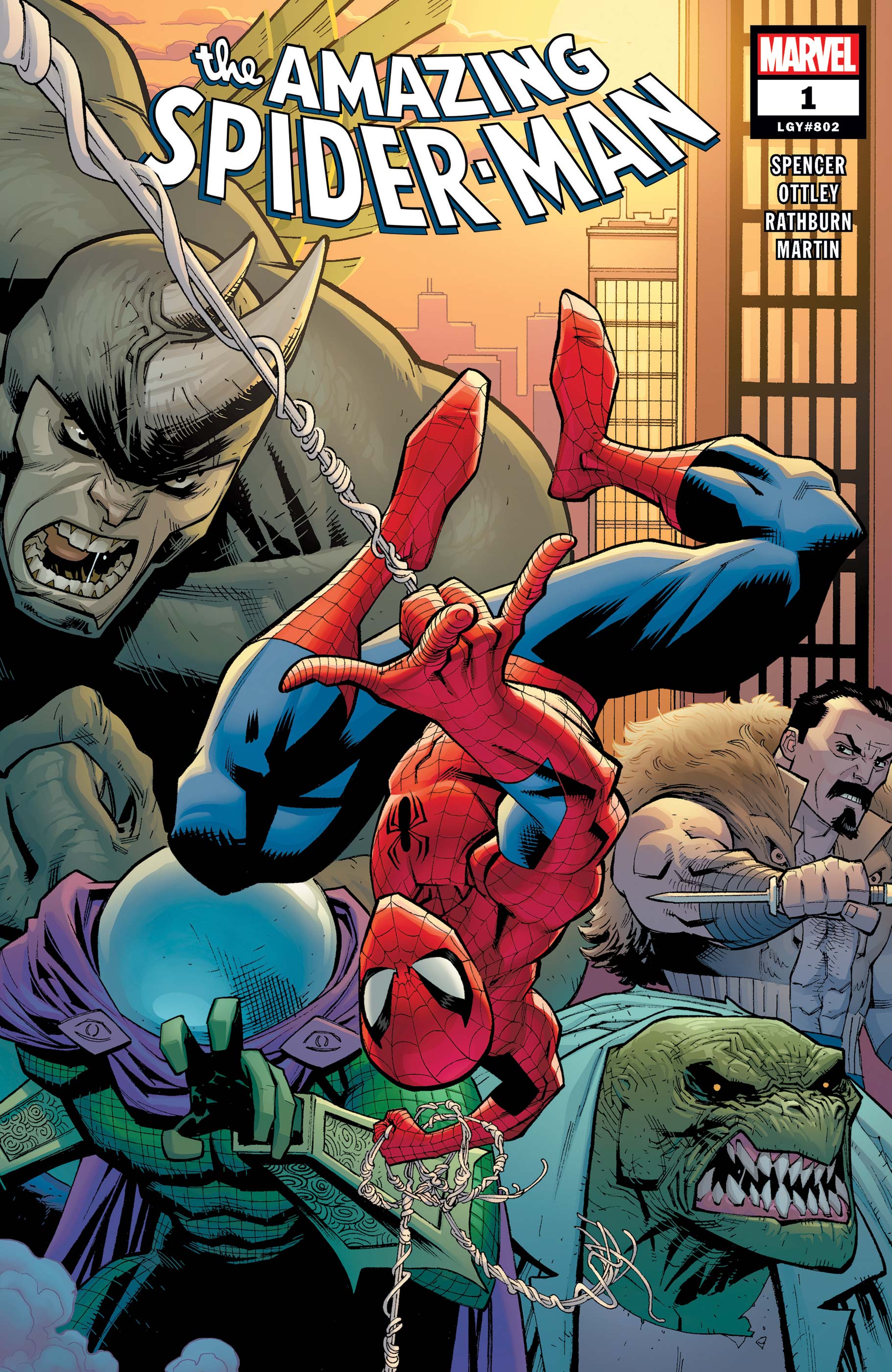 Amazing Spider-Man – The things Nick Spencer does in his first few issues writing a Spider-Man ongoing. This past year saw the end of Dan Slott's impressive, Claremont-esque run on Amazing come to a close. This title continues to be the easiest comic book to read thanks to Nick Spencer knocking Peter Parker off his Tony Stark-like pedestal and back into the "real world" rooming with Robbie Robertson and Fred Meyers AKA Boomerang. It's an odd couple to say the very least.
Another reason I consider this book a must-read (outside of the fact that it's Amazing Spider-Man, which should be a part of anyone's pull list) is the art of Ryan Ottley. He drew well over 100 issues of Invincible and I always knew that his talents would lend themselves well to Spider-Man. Once Marvel made the announcement Ottley was on the new Amazing volume, I flipped out. My premonitions turned out to be true. I could read a Spider-Man series where Ottley and Humberto Ramos rotate arcs as artists from now until Ragnarok.
I would be remised if I didn't mention what Dan Slott built right before the switch to Nick Spencer. Slott had Peter Parker acting as an "international man of mystery," so to speak. Spidey had gadgets and vehicles the likes we've never seen. It all worked. Plus, he made Norman Osborn the Red Goblin following a brief merge with the Carnage symbiote. How cool is that? Annnd Spidey dating Mockingbird? So cool.
The only problem picking up Amazing today is that you really need to start at Amazing Spider-Man #698 to get the gist if you haven't read a Spider-Man book in a while. If you make an effort to do so then catching up to the new stuff will be well worth it.
Mighty Thor/Thor – I know good comics. For the past seven years, Jason Aaron's Thor books are the most consistently entertaining adventures in all of comics. If you own a heavy metal album of any sort, throw it on while you flip through any of Aaron's Thor titles. (There's another thread: Jason Aaron is the best writer of Marvel's current arsenal.)
He made Jane Foster a Thor. It's one of those cases where an obvious choice doesn't disappoint. Initially, I think a lot of readers thought making Jane a Goddess of Thunder would be "too easy." The story turned out on-par with any of Aaron's Gorr stories. "The War/Runes/End of the Realms" continues to ramp up. Still. How long has this gone on now? Does it matter? Nope. Fight forever.
My favorite story from 2018 was the finale to Mighty Thor where we all knew Jane, knowing if she Thor'd out one more time, would succumb to the cancer which had overtaken her body. I didn't understand (and neither did Thor and everyone else) why she hadn't used any magics to cure her disease and her story brilliantly explains why. I got to know Jane Foster, the woman. It's an incredible ride.
The artists on this series are also at the top of their game. Esad Ribic is still contributing mesmerizing cover art. Russell Dauterman is Jane-Thor's artist forever. Currently, there's a new kid on the block in Christian Ward, who is crushing the art on Thor along with Mike Del Mundo. I think I could read this series with any artist but the skill of Aaron's mercenaries adds to the fun.
I read a lot of Superman and X-Men comics but if anyone comes to me asking what to read at this moment, I point them into the direction of Jason Aaron's Thor stories. He's firing up a new Conan the Barbarian for Marvel in 2019, which better crossover into a Thor miniseries. It has to.
Let me add one more reason why Aaron's Thor books kick so much ass. As I stated before, I used to have a real issue with the comic book industry integrating more "Hollywood" into their monthly titles. In this day, I'm now used to it. It's awesome that Jason Aaron's Thor books don't relate at all to the Thor on the big screen outside of two elements: the comedy and Malekith—who showed up around the time of Thor: The Dark World's release.
Aaron's Thor rarely incorporates other Marvel heroes into his stories. It's kind of an "only when necessary" type of deal, which is great because you get more Thor-stuff. Before Thor: God of Thunder, Thor was never on my must-read radar. Seven years later, this may be the one book I can't go without reading every month.
And there you go. Read these comics if you haven't already.
"But Matt, comic books are expensive," you say.
"I'm not going to log into a computer for you," I say.
The internet's the internet. I still ride around on my high horse for purchasing all the books I read but, hey, that's just me. I'm an idiot. Do what you must, but read these stories. Enjoy comic books!
Matt de Simone is a writer, comic book collector, former pro-wrestler. Follow him on Twitter, Instagram, and check out a few episodes of his soon-to-be-returning podcast.