I'm excited entering the top fifteen. There's a heavy live album and VHS influence from here on out. I can't stress listening to these tracks as a companion for those of you unfamiliar with the KISS catalog. Enough babbling. Let's get to it.
15. "Black Diamond" – Alive!/X-treme Close-Up Polygram VHS/DVD
Legendary.
No, it's not about the most difficult course at a ski resort. I can tell you that the first time I ever went skiing I uttered, "Out on the streets for a living!" as I took my first trip down the bunny slope. As a KISS fan, how could you not, right?
My first "Black Diamond" experience came via the KISS Xtreme Close-Up VHS tape. They cut right to the crescendo. I thought, "Holy shit. These guys are going for it for real." I actually went out and found a pre-"Remastered" copy of Double Platinum—KISS' first greatest hits record—before I got a hold of KISS' debut album just so I could listen to "Black Diamond" in its entirety. Funny thing about Double Platinum: it's not the best album to give someone who wants to hear more KISS. Most of the tracks are looped. What was usually the end of the cuts on the studio albums started back again and faded out. Once again—much like the previous two songs listed—Alive! contains the best recording of "Black Diamond."
This song also concludes the Alive! cuts on my countdown. It's the usual main set closer of any KISS concert. The first time I saw Gene Simmons and Paul Stanley sway as Ace Frehley fell on his knees engulfed in the sound during their live performance in Detroit from 1976 was one of the first images of KISS that hooked me. This song is the perfect culmination to a live show's work. "Black Diamond," during KISS' heyday, concluded with Peter Criss's drum riser lifting off the ground above the crowd for all to see as the last flash bangs and pyro erupt before reloading for the encore.
I honestly don't know what the song is about. It isn't like I've tried to find out about its subject matter. I've yet to read any of KISS' authorized autobiographies after all these years, but plan to do so soon. I'm sure I'll get a lot of answers to song origins that the Pod of Thunder podcast hasn't already broken down. This cut is definitely about living on the mean streets just trying to get by until the "darkness" brings you down. What's the "Black Diamond," though? A void into the unknown?
Best quote: "Out on the streets for a livin'/Picture's only begun/Your day is sorrow and madness/Got you under their thumb"
Whose thumb is the subject under? The "Man's," or, the "Establishment's?"? I've always wondered. Maybe I'll read Peter Criss's book to possibly find out the scoop. Until then, it all remains a hard-rocking mystery, but that's one of the things I love about KISS. They always make you wonder.
15. "Getaway" – Dressed to Kill
For the first three studio albums, Peter Criss sings the lead vocal on one cut from each album. First, there was #15 on the countdown, "Black Diamond" off KISS. The follow-up album, Hotter Than Hell, contains "Strange Ways"—a deep cut, but not one of my go-to Criss tracks. Finally, we got "Getaway" off Dressed to Kill, which is my second favorite song off the album.
In the liner notes, Ace Frehley gets credit as the song's author. So, as a kid, I thought Ace sang the verse. Dressed… was the first KISS album I owned. I knew nothing. It wasn't until I heard "Black Diamond," "Strange Ways" or "Beth" when I realized that Criss provides the vocals on "Getaway." Another reason I dig this deep cut is because it was one of my first favorite KISS song before I owned anything else.
"Getaway" is about leaving town somehow, some way. After experiencing about 75% of Pod of Thunder's breakdowns, this song leaves me to believe that Peter Criss may have whacked someone on the streets of Queens and needs to make a clean break before the authorities figure it out. (I still need to listen to that episode of POT to be sure they don't have any other interpretations.) The song's structure is a classic, KISS verse/chorus/verse/chorus/solo/chorus. There's nothing to it, but the delivery works in every way imaginable. There's a catchy riff, a catchy chorus, and Ace's solo is shifty and clean.
Best quote: "I know I have to go/Got no dough/Should I stay?/Or should I go?" 
How many times have you been in a similar position (outside of the possible murderous, lyrical undertones)? It's a song that a 14-year old heard as a potential theme for moving on with my life once I started "adulting." Funny how hard it actually is to "get away" sometimes. Regardless of the song's real intentions, it's a great track to throw in your car's stereo and ride. "Getaway" is most definitely in my top-tier of KISS deep cuts. 
13. "Tears Are Falling" – Asylum
Once I began hashing out my countdown, I realized that the middle portion is dominated by two albums: Alive! and KISS' greatest studio album of the non-makeup era.
Oh, Asylum. It's one of my top five favorite KISS records. My initial introduction to this single came by way of renting the KISS Exposed VHS tape from my local video store. The home video alone is why I hold KISS' 13th(!) studio release, Asylum, in such high regard. Say what you will about where the band was as a unit in 1983-88, but Asylum contains some of the catchiest and rip-roaring cuts in the history of their catalog despite Gene Simmons's subsequent absence in the recording process in lieu of his acting career.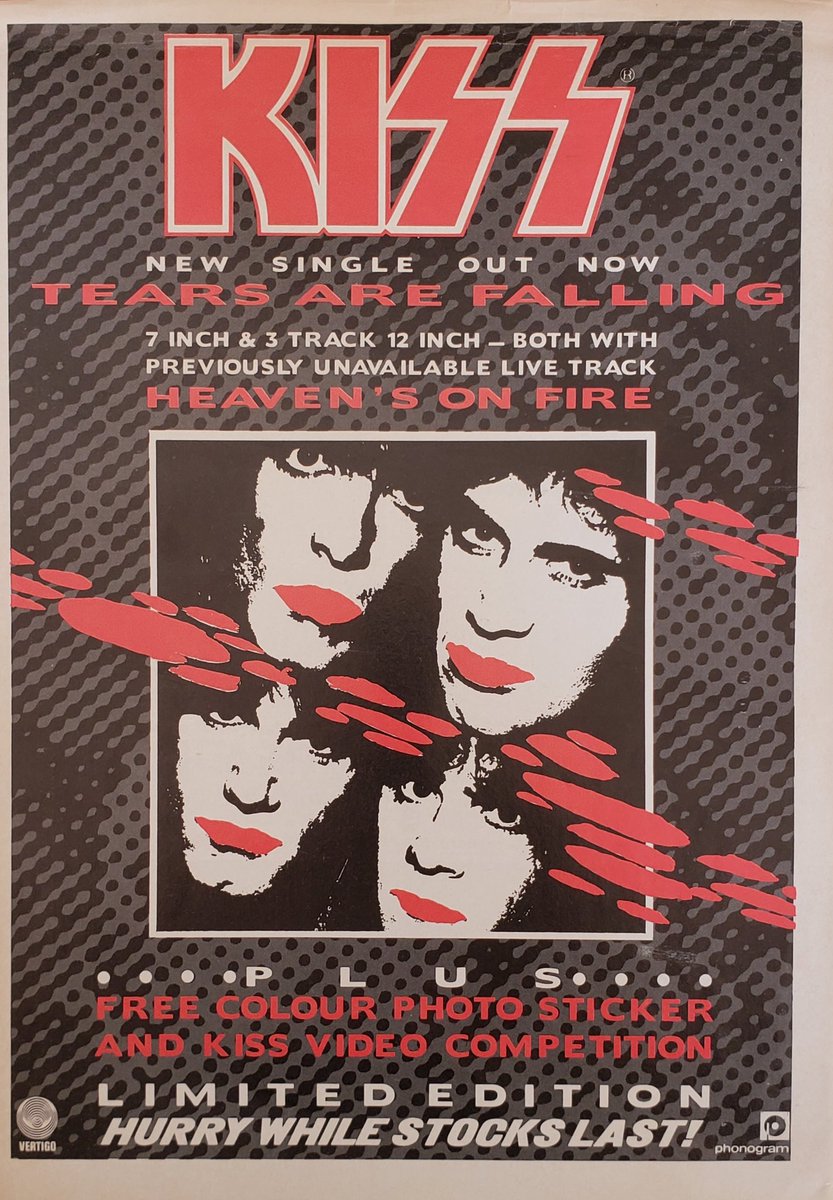 "Tears Are Falling" is a Paul Stanley classic. The track displays his vocal range at its zenith. One thing I find so interesting about KISS is the progression of Stanley as a guitarist and vocalist. It seemed like he never stopped working to get better. He was clearly the driving force of KISS in the 1980's and this song is a perfect example. "Tears" landed KISS a top-20 Billboard smash and frequent airplay on MTV when MTV was "Music Television."
This is yet another example of KISS' simple song structure similar to the previous entry, "Getaway." A couple verses, a catchy pre-chorus into chorus, and Bruce Kulick provides a classy-ass solo that brings it all together. "Tears Are Falling" is about a woman who, I think, has fallen out of love with Paul. This is a common theme with Stanley's lyrics. He's usually saying to his current plaything, either: "Hey, woman. I'm only going to be around for a short period of time so you should probably bang me as much as possible before I'm moving on," or, "Something's happened to our connection, sweet baby. I know you're lying to me, so, why don't you just tell me about it and bang me one last time because I'm-a leavin'." 
Best quote: "Something is wrong as I hold you near/Somebody else holds your heart/You turn to me with your eyes in tears/And then it's raining/Feels like it's raining/Oh no, tears are falling" 
My first real job was attempting to be a decent stock boy at a wicker furniture store. I got in trouble one day for singing "Tears" while moving furniture from a warehouse into a moving truck. My boss became annoyed and more or less told me to "STFU." It was either that or the fact that I had his son singing along as if I was Paul at a live show singing the chorus and then asking the crowd (the boss's son) to repeat it back to me. I did shit like that all the time at that job. I was the worst. "Tears Are Falling," however, is not. Such a great jam to break up a monotonous day of moving wicker furniture too. 
12. "King of the Mountain" – Asylum
The run of Asylum cuts continues. "King of the Mountain" is the record's opening track and, wow, is it a perfect selection to start the party. There's no real stoppage in the rocking pace of Asylum. I wouldn't even consider the previous selection, "Tears are Falling," as a ballad of any sort. Eric Carr's skills behind his signature drum fortress ring true right away and bleeds into Paul Stanley's battle cry and the hurricane of heavy metal erupts.
"King" basically consists of Paul Stanley explaining what all he plans to do with his evening/year/life. He's got big plans too, like, climbing a mountain, shooting through the night like a shotgun, and getting down. Now, I'm not sure if this song is a metaphor for getting together with Gene, Eric, and Bruce, running out in the snow, and finding a hill so that they can find out who's king of the mountain. If that's the case, then, hell yes. I'm down with that. I loved that game as a kid. When Pod of Thunder mentioned the possibility of KISS battling for hill supremacy in the snow, I knew those guys thought along the same wavelength when it came down to figuring out what certain KISS songs really mean. Great minds.
Best quote: "Listen, don't try and save my soul from destruction/I'm never going to fall/Don't try to give me a piece of the action/I'm going to take it all" 
Paul Stanley clearly wants to win in the end. By hook or by crook, he's going to get the job done. I always thought his mentality in this cut rings true for any pro-wrestler—particularly in the 1980's. I grew up obsessed with pro-wrestling and KISS. I always thought that "King" lent itself well to a babyface's (good guy's) entrance music. I may or may not have used this song early in my own pro-wrestling career (but that's a story for another time).
It's hard to argue that "King of the Mountain" isn't one of the best tone-setters of all the opening tracks in KISS' vast catalog. Asylum is criminally underrated and I highly suggest giving the entire album a spin. It totally rocks. 
11. "Who Wants to be Lonely" – Asylum
There aren't very many songs from KISS that I would describe as "sexy." However, "Who Wants to be Lonely" is one of the sexiest jams of them all. This is another song off Asylum where it makes you want to slap on a black leather trench coat and find seedy pleasures deep in the night. It was the 1980's, what the hell else would you do while listening to KISS?
Paul Stanley once again gives another clutch performance off Asylum. This is another example of Stanley telling his lover, "Yo, are you just going to lay there all night or do you want me to come over there and give you a sexual experience before I'm gone tomorrow?" He knows what women want, you see? Or, at least, Paul Stanley thinks he does.
Best quote: "Open yourself to me (sex)/Let me show you what it can be like (sex)/Baby, giving it all that you got (sex)/Nothing can hold you back (from having the sex)/Some things can stand alone (Can you guess that he means by that? Sex.)/A mountain can feel no desire/But a heart isn't made out of stone/Wake up in the middle of the night/Nobody's gonna make it alright (unless you sleep with me)"
He leaves nothing to interpretation with this cut. This is one of the few songs where the listener knows exactly what Stanley's getting at. The rest of the band comes through as well. Bruce Kulick's solo is one that I can whistle from start to finish. Eric Carr's floor tom fires off like a cannon during the bridge. Meanwhile, Gene Simmons's presencein the music video is enough even if he didn't record this song in the studio. Simmons clearly understands Stanley's story. Who really wants to be lonely, anyway? Not Gene and most assuredly, not Paul Stanley. No doubt about it, "Who Wants to be Lonely" is effective and totally rocks the spot. Check it out.
Next week I'll reveal the first half of my top-10. Another "King," a few stories about my early days of KISS fandom, and an overpriced flea market al explained. See you then.
Matt de Simone is a writer, comic book collector, former pro-wrestler, and huge fan of KISS. Follow him on Twitter, Instagram, and check out a few episodes of his soon-to-be-returning podcast.